Bergeggi Playa de Luna beach and restaurant:
the beach in the Marine Park
This beautiful summer too 2023 it's over,
I'll see you again in May 2024!
The PLAYA DE LUNA beach club with restaurant in Bergeggi welcomes its guests in an elegant and exclusive environment, where courtesy, relaxation and fun come together in a unique sensation.
The beach has large spaces between the umbrellas and is equipped with private cabins, locker room, hot and cold showers, the latter also by the sea.
Locate within the Bergeggi Nature Reserve, very close to the suggestive Grotta Marina (easily visited) and in front of the splendid Island of Bergeggi, Playa de Luna enchants for the crystalline sea of ​​the suggestive bay, where it is easy to meet the marine creatures of the Park, admire families of cormorants diving into the sea and other inhabitants of this wonderful ecosystem.
In our factory we rent Mono and Biposto Canoes and several Pedalos, with which it will be possible to visit the cave and get to the island of Bergeggi.
Ample Parking (the payment) near the factory.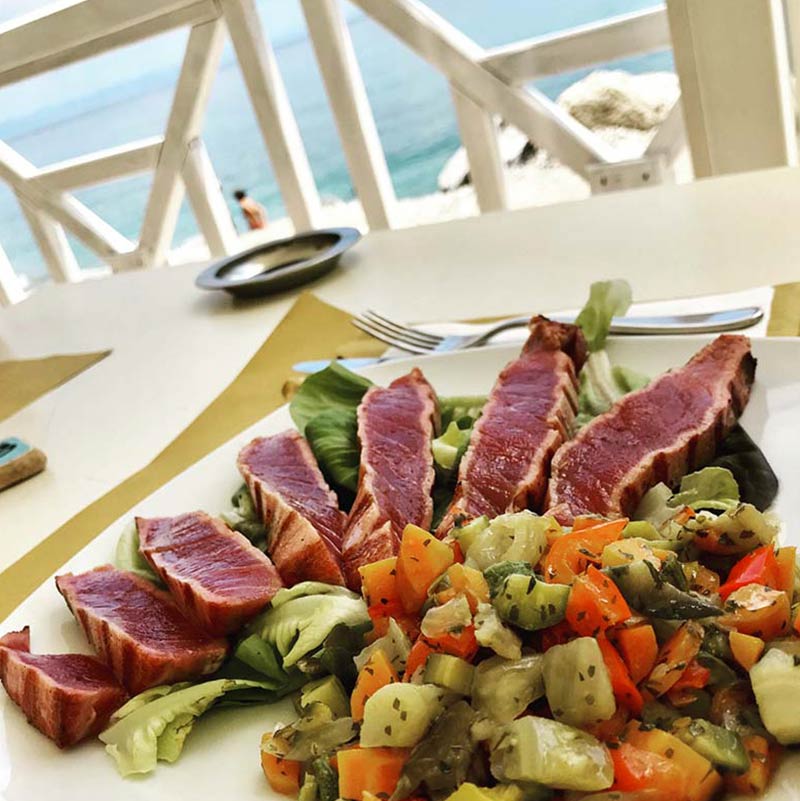 Playa de Luna: Restaurant in Bergeggi with a terrace overlooking the sea
Playa de Luna is also a wonderful restaurant with a terrace overlooking the sea. The restaurant is the real highlight of Playa de Luna, offers a cuisine in which fish is the main protagonist, con traditional Ligurian recipes that enhance the flavors and aromas. But not just fish, Playa de Luna has a wide choice of specialties, a rich menu that can satisfy all palates and all needs (even the little ones).
The wine list is wide and qualified, which ranges from Liguria to both Rivieras and touches all the most important Italian realities, up to encroaching on the world of French Champagne and a selection of dessert and meditation wines, even in small bottles with good 13 labels!
If you want to relax and enjoy the day from your umbrella, our service "Beach service" will allow you to sip a drink without leaving your bed. Our operators will take your orders to your umbrella, on comfortable trays and practical tables… Total relaxation at Playa de Luna!
Playa de Luna is also the perfect place to organize your ceremony, the ideal location for weddings, baptisms, birthdays, aperitif, ecc..
THE SERVICES OFFERED BY PLAYA DE LUNA